30 Years of Adora
Sydney chocolate institution built by sister power team celebrates thirty years of success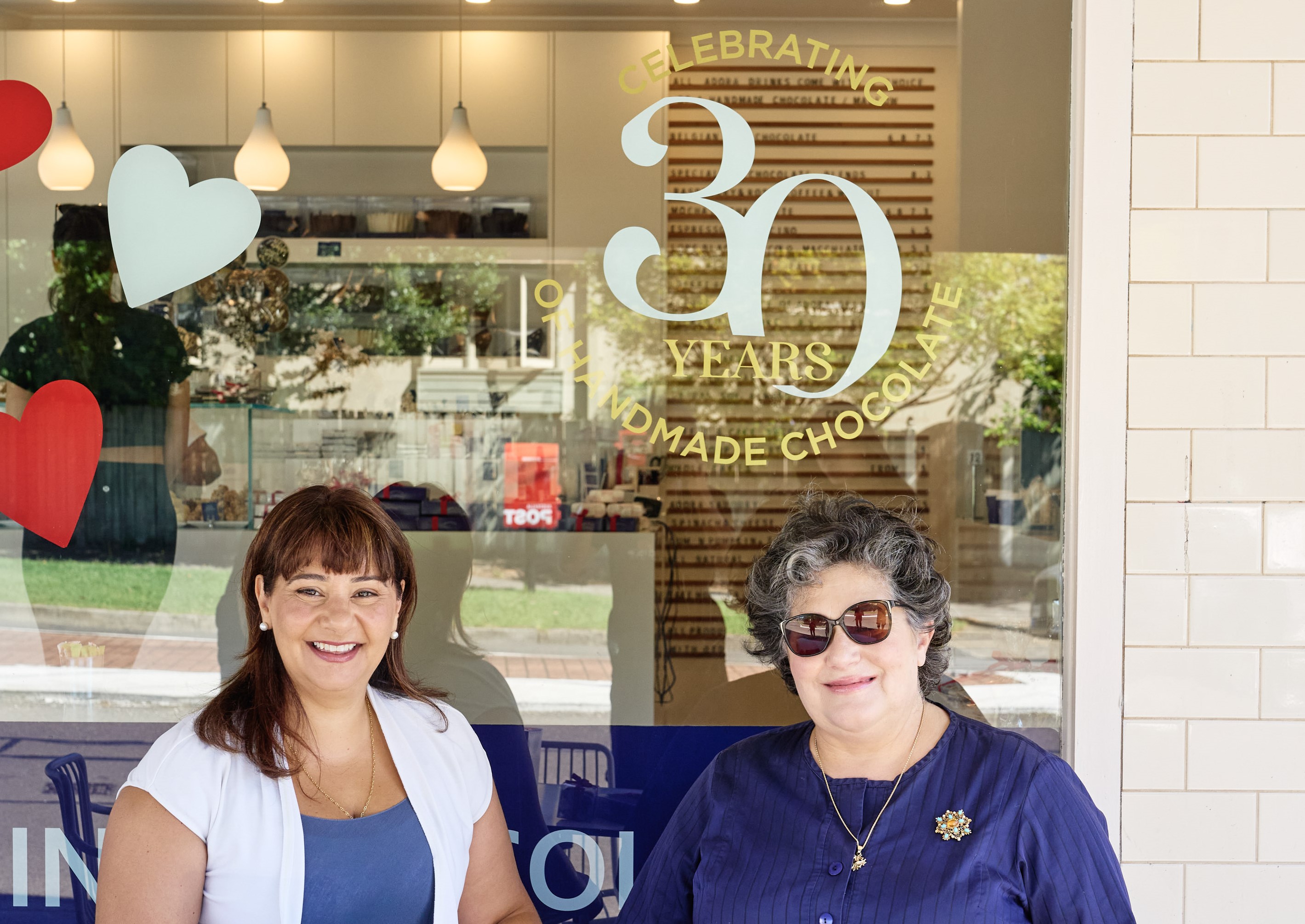 In 1993, two sisters, Katerina Stavropoulos and Tina Angelidis, launched Adora Handmade Chocolates to create an income that allowed them to work from home. Now, the pair are celebrating the 30th anniversary of their venture with successes they never imagined. Over the past 30 years, Adora has expanded to operate in seven locations across Sydney and now includes a line of cakes, gelato, special high teas and bake-at-home kits.

Katerina and Tina launched Adora from their home kitchens, with each treat being handmade and inspired by a warm and loving energy founded by their innate values of family. Their first wholesale customers shared their vision of handmade delectables as the dynamic duo ignited the flames of childhood memories whilst door-knocking local businesses. At the heart of their business, their inspiration delves from their Greek background (The word "Adora" is a Greek term for "gift giving"), which focuses on food, family and comfort.

"Adora Handmade Chocolates is a passion and dedication to creating exceptional handmade chocolates…with vibrant, innovative and fresh ingredients, let our chocolates transport you… to a special place of indulgent adventure and joy," said the duo.

There were hours upon hours amongst hundreds of nights where these sisters would vigorously taste-test their delectables harnessed by their vision of creating inspiring chocolate recipes. Most often than not, each of these tasty treats was given to visitors whilst they raised a strong and healthy family. With an inspiration embedded within world-renowned Belgian chocolates, amongst their unique aspiration to transport families, they rocketed their business and landed their first big business deal - supplying the Bennelong Opera House.

The first big break for Adora was winning a contract to supply the Bennelong Opera House. The chocolates were used for the interval session at the ballet and VIP events. This was exactly the confidence boost the pair needed as they went on to win prizes at the 1997 Royal Easter Show and opened the very first Adora store in Earlwood.

In 2006 the sisters opened the first store in Sydney CBD to sell Australian-made chocolate. At the time, there were only international chocolates available in the city.

"This was a dream come true for us. We had always complained about the lack of Australian made chocolates in the city, so to be able to change that was huge." Says Tina.

"It also opened the door to a whole new market. We started selling to corporate businesses in the area and providing petit fours to boardrooms. We were expanding so fast!"

All the time, the sisters were working incredibly long hours and trying to balance their families simultaneously.

"Family is the most important thing to us. The business will always come second. But that clarity has helped us make some difficult decisions over the years."

Their foundational mission of using high-quality local ingredients, fostering their family-centric love and their passion for bringing a smile to each of their customers continues to thrive today, especially as their traditional 'Choccie and Coffee' deal is served from each of their cafes, just like it did from day one.

Their paramount success is second to none. It's safe to say that their 30th anniversary will be one of the many accolades for this dynamic duo.

Outlets: Newtown, Parramatta, Oatley, Croydon, Earlwood, Sydney CBD, Quay Quarter Lanes and soon to come Wynyard.